FCP Inmobiliario Yellowstone Real Estate Opportunity Fund II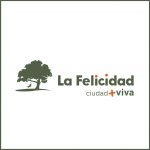 La Felicidad is the new phase of a 10-year sustainable development project in Bogotá. It is a large-scale residential development with high social, environmental and sustainability standards developed by Amarilo Group. Its location, between Boyacá, 26 and 13 Avenues make it an attractive alternative for new families in search of their first home and for investors looking to capitalize on the area's valuation potential.
Its location near shopping centers (Multiplaza and El Eden), as well as the El Dorado Airport, transport terminals, schools and universities make La Felicidad an optimal option for families and investors.
La Felicidad is a large-scale residential project formed by 5 individual projects with a total offer of 1,559 residential units that range from 41 m2 to 128 m2.